Trying to decide where your next epic vacation should be? Are you thinking about visiting the beautiful town of Vail, Colorado? This charming place has a lot to offer. Whether you visit Vail in the winter or summer, it is an excellent adventure destination with plenty to do all year.
Vail is one of the largest and most popular snow sports destinations in North America. With its 193 trails and 31 lifts, the town is known for delivering a top-level ski experience. However, while many people think of Vail as a winter resort, it also has a lot to offer in the summer.
The ski slopes then become excellent paths for cycling or simply walking in nature. Additionally, there are many shopping and dining options in Vail, as well as nightlife and attractions. Whether you are visiting Vail with your spouse, family, or friends, there is a lot to enjoy.
Here we will give you some ideas on how you can spend your time during the summer or winter. But before we dive in, let us give you some information and tips on how to get to this amazing town.
How to get to Vail, Colorado?
Serviced by two airports, Vail is a relatively easy town to access. The nearest airport, Eagle Regional Airport, is just a 40 minutes drive from the town and offers nonstop flights. Another option for getting to Vail is to fly into Denver International Airport, which is about a two-hour drive away.
In terms of transportation from the airport to your hotel in Vail, you can use the Snowflake Luxury Limousine services. You can book our airport shuttle service and we will ensure that you have a timely, stylish, and secure trip. You can also count on us for private transportation around Vail and throughout Eagle Country. We can provide round-trip or point-to-point transportation for events, dining, experiences, tours, activities, and family entertainment.
With Wi-Fi connectivity and state-of-the-art audio and visual systems, our executive vans and cars are comfortable and convenient to travel in. When you book our limousine, you can request rooftop cargo boxes and make arrangements for ski equipment. We have highly trained professional drivers to provide you with the high-end experience you deserve.
Whether you're planning a winter ski trip near Denver airport or you need a Vail limo service to add a touch of luxury to a special occasion, such as a romantic dinner or a night on the town, Snowflake Limousine can help you.
Best things to do in Vail in Summer
If you like wintertime sports, skiing, snowboarding, or any other winter activities, Vail, Colorado is a great place to do that. But there's another side to this beautiful ski resort that's equally enjoyable.
Vail is a wonderful summer destination. During this season the weather in the valley is beautiful, the nature is stunning and there are so many fun things you can do.
This section will go over some of the best summer activities in Vail, Colorado and the surrounding area.
Hiking Vail Mountain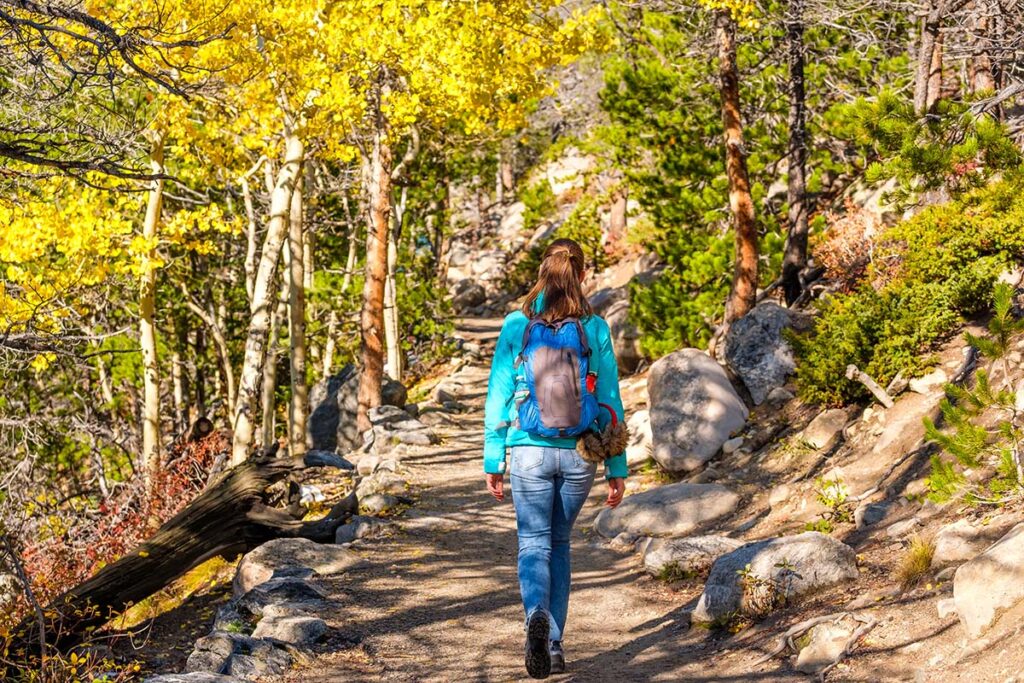 It is one of the best things you can do in Vail in the summer. There are some amazing hikes in Vail and other areas in Colorado. The Booth Falls trail is a popular hiking trail in the east Vail area. It's about four miles round trip and considered moderately difficult. It takes about two and a half hours to complete on average. You will gain approximately 1300 feet in elevation, so make sure to bring sunscreen and plenty of water. It's a lovely hike with breathtaking views, and the falls are spectacular.
Another beautiful hike you may want to try is the Beaver Lake Hike. It begins at the base of the Beaver Creek Ski Area and ends at Turquoise Lakes. However, please note that this hike is not for the faint of heart. It is a hard trial and is not suitable for beginners. It is about 6.3 miles round trip and it does get pretty steep in a couple of sections. However, once you get to the top you will be really impressed. The views of the Colorado Rockies are spectacular, and the lake is really gorgeous.
Before trying to conquer the top of Vail Mountain be sure to be well prepared. Bring enough water, some extra food, a first aid kit and other essentials with you. Also, do not forget your sunscreen, sunglasses and a stocking hat.
Mountain biking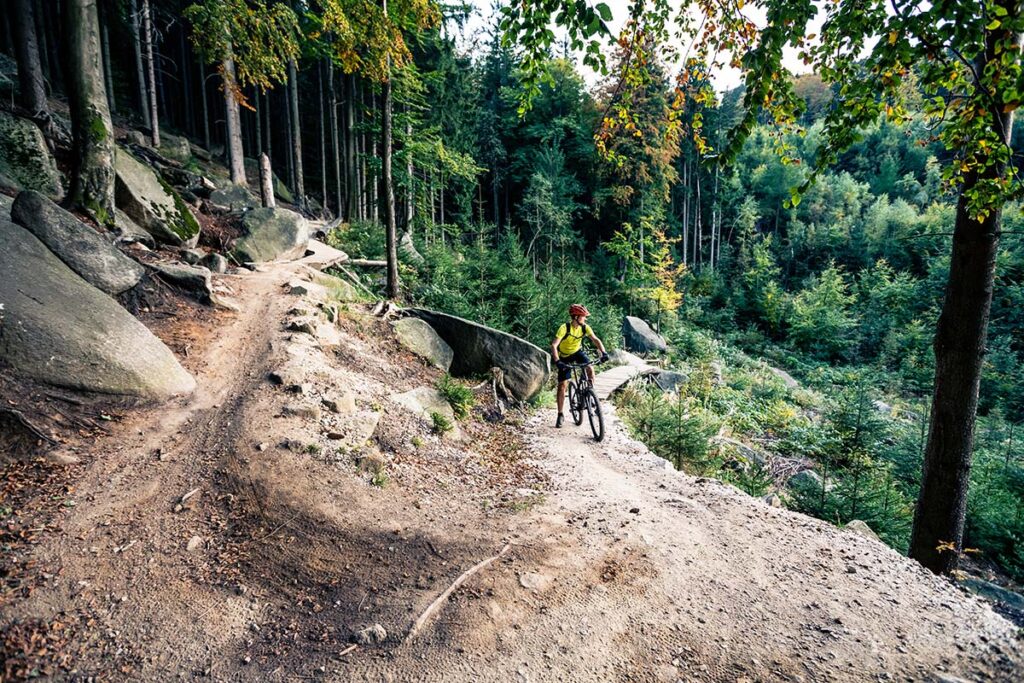 Are you an adrenaline-seeking junkie? Then you should definitely go mountain biking in Vail. This will take you on a summer adventure you will never forget. Mountain biking will give you the opportunity to navigate trees and rocks, all set against stunning Colorado mountain backdrops.
There are many places you can go mountain biking in Vail. There are also different trails and you can choose one depending on your skill level and preferences. If you are a beginner in this kind of activity you can opt for a bike haul where you take your bike up to the mountain on a gondola and then ride down the trails on the mountainside. If you are an intermediate or advanced rider, you can try Radio Flyer or Big Mamba bike trail.
Most biking trails in Vail open in mid-April and close roughly in late October, but it really depends on the weather. You can rent a bike and helmet right in the village. The rental shops are normally open daily, from 9 am to 6 pm.
Zipline tour
A zipline tour is another way to make your summer in Vail unforgettable. Of course, it is an option if you are comfortable with heights. The activity is fantastic, and you can do it with your entire family including your kids. There is a zipline designed specifically for children.
There are two places near Vail where you can get a zipline tour. One really interesting setup can be found just over Wolcott, near Eagle Ranch. It is called Zip Adventures and is located about a 20-minute drive from Vail and Beaver Creek. To get there, you can simply hire a local transportation service.
Another location for a zipline tour is at the top of the Eagle Bahn Gondola in Lionshead, known as Epic Discovery. It provides a variety of zipline options, including those for children. Other enjoyable activities available at this location include a bungee trampoline, a climbing tower, a gondola ride, and so on.
Horseback riding
Do you want to see the Rocky Mountains during the Colorado summer days? Going horseback riding is a great way to do so. One of the places, you can find this activity is Vail Stable and is just one mile of Vail Village. They have wonderful rides and you can do everything from short ones to really big long ones. So depending on your level of expertise with horseback riding you can choose one that fits your lifestyle.
4Eagle Ranch is another place where you can get guided horseback rides. It is about half an hour outside of Vail and is open every day. The setting offers some stunning views of the Sawatch Range, Castle Peak, and Red and White Mountain. There are also other wonderful things you can do there including wagon ride dinners, zip adventures, Jeep & ATV tours and so on.
Vail Farmers Market
If you are staying in Vail on weekends, you should definitely visit the Vail Farmers Market. During the summer months, it is open every Sunday between June 20 and October 13. It has over 100 tents where you can find plenty of produce from local farmers. Here, you can enjoy a glass of Vail wine or try local food. You may also buy one-of-a-kind gifts.
Other Vail summer activities you may want to try
Here are other Vail activities you can enjoy in the summertime.
Visit the Ford Park. You can do many things here including playing tennis, basketball or having a picnic. You can also explore one of the highest botanical gardens in the United States, Betty Ford Alpine Gardens.
Try fly fishing. There are many places in the White River National Forest where you can go fly fishing on your own. You may also opt for guided fly fishing.
Enjoy nature at Vail Nature Center. If you are a nature lover then you may want to get involved in any of the classes and events that this center offers.
Attend the Vail Dance Festival. If you are in Vail between the end of July and the beginning of August then you can involve in this popular two-week celebration in the heart of the Colorado Rocky Mountains.
Best things to do in Vail in Winter
Skiing and snowboarding are without a doubt among the best and most popular Vail winter activities. More than half of all visitors to the town come to ski down the mountain during this season. With over 5000 acres of developed terrain, Vail provides a lot of opportunities for a great skiing experience.
However, there are plenty of things to do in Vail besides skiing. Vail is also home to plenty of shops, restaurants, bars and galleries to keep non-skiers entertained. Not to mention the lovely spas where you can relax during the cold winter days.
Here are some of the top things you can do in Vail during the winter.
Skiing and snowboarding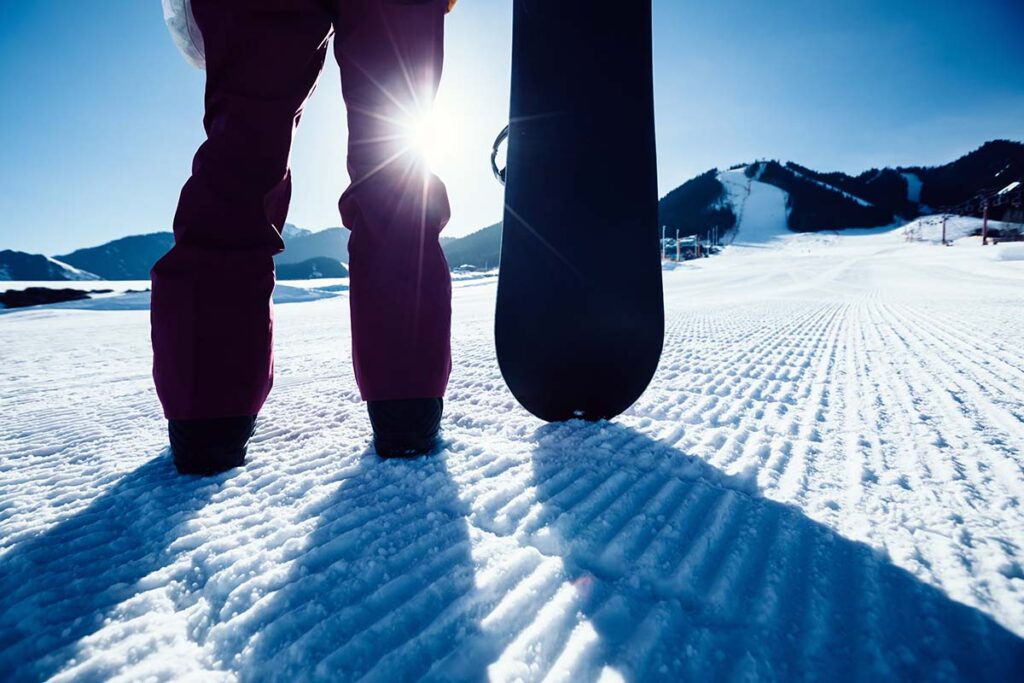 Are you ready to conquer the slopes of Vail mountain? As we mentioned above, there are more than 5000 acres of skiable terrain in the Vail area. It is divided into three areas, including Front Side, Back Bowls, and Blue Sky Basin, and accessed by 31 lifts.
The Front Side is one of the most popular ski areas in the town. It has more than 120 individual trails, some of which are suitable for those who are new to this kind of winter sport.
In case you are more advanced in skiing then you can try the slopes of the Back Bowls area. More than 6 miles wide over 2,966 acres, the area offers stunning views and an unforgettable skiing experience. Blue Sky Basin is another option for experts in the sport. It offers mixtures of terrain for intermediate and advanced skiers and snowboarders.
Colorado Snowsports Museum
Colorado is not only the top snowboarding and skiing destination, but it also has a long history of extreme winter sports. If you want to know more about the state's exciting ski industry you can visit the Colorado Ski & Snowboard Museum in Vail. The museum is found in 1976 and shows the story of the rise of Colorado's extreme winter sports scene.
There are different galleries you can see, from Legacy of the 10th Mountain Division through the Colorado Snowboard Archive and Colorado Ski & Snowboard Hall Of Fame to Howard Head Theater.
This Vail attraction is usually open every day and is free for tourists.
Vail Brewing Company
After a long day of skiing, what's better than grabbing a beer in the heart of the Rocky Mountains? Vail Brewing Company is a cosy, little craft brewery that offers a decent selection of beers. Some popular drinks you can try there are Gore Creek Ipa, Hot Mess Blonde, Kombucha and others.
The Vail Brewing Company also frequently hosts musical artists and other entertaining performances. It has a presence in two different places, one in Vail Village and one in Eagle.
Dining at Vail Mountain
Do you want to treat yourself to a delicious dinner? Restaurants in Vail ski resort offer more than just casual eats. They provide a wide range of food options, a nice atmosphere as well as spectacular views of beautiful Vail valley. For the best experience, you can ride a sleigh up from the base of Vail mountain to a restaurant, have a great dinner and then go back down in a sleight.
Make sure to make a reservation in advance because restaurants are often busy, especially during the weekends.
Relaxing Spa
Looking for the best thing to do in Vail during winter that is not skiing? Wouldn't it be nice to have a relaxing spa afternoon? There is a wide range of unique spas and salons in the village. Spas in Vail are just as good as the best spas in Aspen. You can choose one depending on where you are staying and your individual needs.
Spa treatments are a great way to indulge in relaxation and calmness during cold winter days. You can pamper yourself with a nice massage, relieve tension in a steam room or just chill in a hot tube. Some places even offer outdoor heated pools and hot tubes.
Other Vail winter activities you may want to try
Here are some other things you can do in Vail, the winter wonderland.
Try ice skating. There are two places where you can go ice skating. The first is in the center of Vail Village and the second is situated at Vail Square in Lionshead Village.
Spend a day browsing in Vail Village and Lionshead. There are so many shops, galleries and other establishments that you can browse in the center of Vail Village and Lionshead. You can also see the clever rebuses and word puzzles along Wall Street in Vail Village.
Get cross-country skiing lessons. Vail Nordic center provides cross-country skiing lessons suitable for both beginners to more advanced skiers.
The beautiful town of Vail offers many outdoor and indoor recreation options. It is one of the best ski areas in the USA. However, Vail also has many other things to do year-round and you should definitely not just be considered a ski town. In fact, just about any ski resort in the summer or shoulder seasons in Colorado is worth visiting.
Frequently asked questions
It might be best to plan on staying for about a week. A couple of days is not nearly enough time to experience everything Vail has to offer.
There are many things you can enjoy in Vail for free. You can visit Ford Park in the village, have a picnic there or explore the Betty Ford Alpine Gardens. You may also go hiking. There is a great trail which starts from Lionshead and extends to the top of Vail Mountain. Another thing that you can do for free is to visit the Colorado Snowsports Museum & Hall Of Fame.
It depends on whether you prefer a more party-like atmosphere or a quiet vacation. If you are more in a festive mood then it would be better to go to Vail. The town is also one of the best places to go for skiing or snowboarding. In case you want to have a more calm and peaceful vacation then you can go to Aspen. However, it would be great if you can visit both places. After all, Aspen is about 2 hours far from Vail. We provide easy Aspen to Vail transportation and vice-versa.
If you want to ski in the area then it would be best to visit the town between December and March. In case you want to explore the wonderful nature of Vail valley then the summertime would be ideal for that.