Colorado is known for its many beautiful small towns. One of them is Aspen, which may be just a small mountain town, but it has worldwide fame for its ski slopes and skiing options. And while the town itself is small, it is surrounded by four ski areas – Snowmass Ski Resort, Aspen Highlands, Aspen Mountain and the family-friendly Buttermilk mountain is the best for beginners. The area doesn't lose its luster with the melting of the snow.
There are plenty of hiking trails in the Colorado Rocky Mountains with breathtaking vistas, premium quality hotel and spa service, as well as natural hot springs that make Aspen in the summer a great place to be. (Check out our list of the best spa centers in Aspen)
When you visit Aspen, you will never feel bored for a second. In fact, you will be faced with so many interesting places to visit that you will get some anxiety about where to go first. In that sense, it will help immensely to have reliable means of transportation around. And just like Aspen is the best in Colorado, arranging quality transportation in the form of limo service in Aspen with Snowflake Limousine is a guarantee for a good time.
What we offer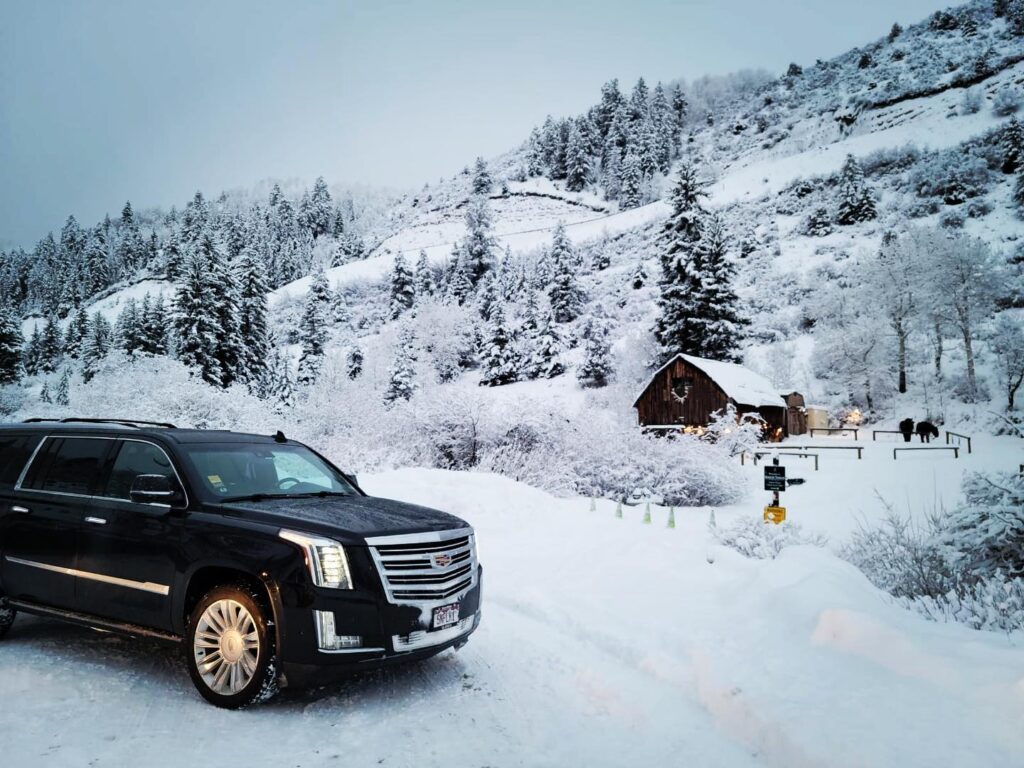 Whether you are alone, with your significant other or perhaps with a group of friends staying at or around Aspen, you will need to think about transportation. Why not travel in style with one of our classy vehicles? Our company covers the entire Aspen area and beyond.
We can take you to any place of interest without delay, whether you are alone or with a number of people. We can coordinate transportation and ensure that you get to your destination on time, all the while enjoying the perks of our luxurious limousines.
At Snowflake Limousine we pay great attention to customer satisfaction (just check our Google Reviews) and are willing to deal with all the details for you. You can sit back, enjoy your stay in Aspen in summer or winter and not worry about a thing. We have a long-distance car service, which is also pet- and child-friendly. With competitive rates and airport transportation and shuttles available to all of the major Colorado airports, there really is no better transport option around.
Best things to do in Aspen
Aspen offers some of the best experiences for any type of traveller. Whether you are a skier or just want to enjoy the attractions in Aspen, the resort will not disappoint. Here is a list of the best things to do in Aspen:
Check out the John Denver Sanctuary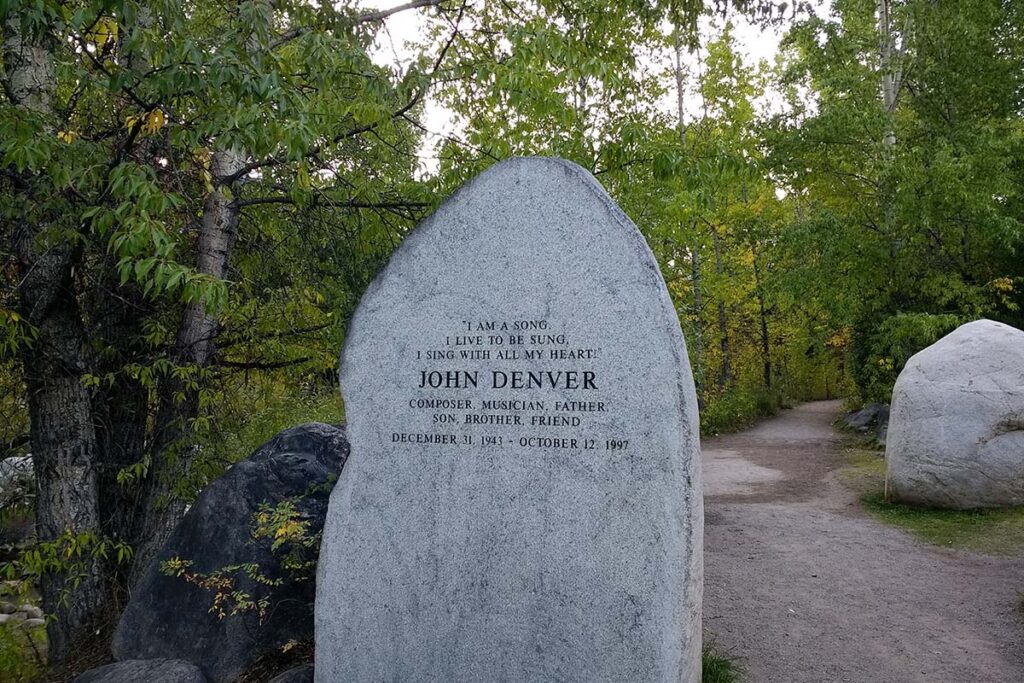 This green oasis in downtown Aspen almost feels like an anomaly. It provides a quiet break from the bustle around it. It is just next to the Rio Grande park along the Roaring Fork river. It provides tourists and visitors with the opportunity for a much-needed place to rest for a while. The sanctuary is named after the American singer who live in Aspen for a while and was inspired to write the famous Rocky Mountain High song.
The park is home to the famous Song Garden, where Denver's most famous lyrics are carved in boulders representing the circle of life. In the very middle of this circle is a Colorado blue spruce that represents the undying spirit of the singer. There is a celebration in tribute to the late artist every October. It has a rich programme of live music performances, readings and a host of other festivities that highlight the career and life of John Denver who felt most at home in Aspen.
Behold Aspen Mountain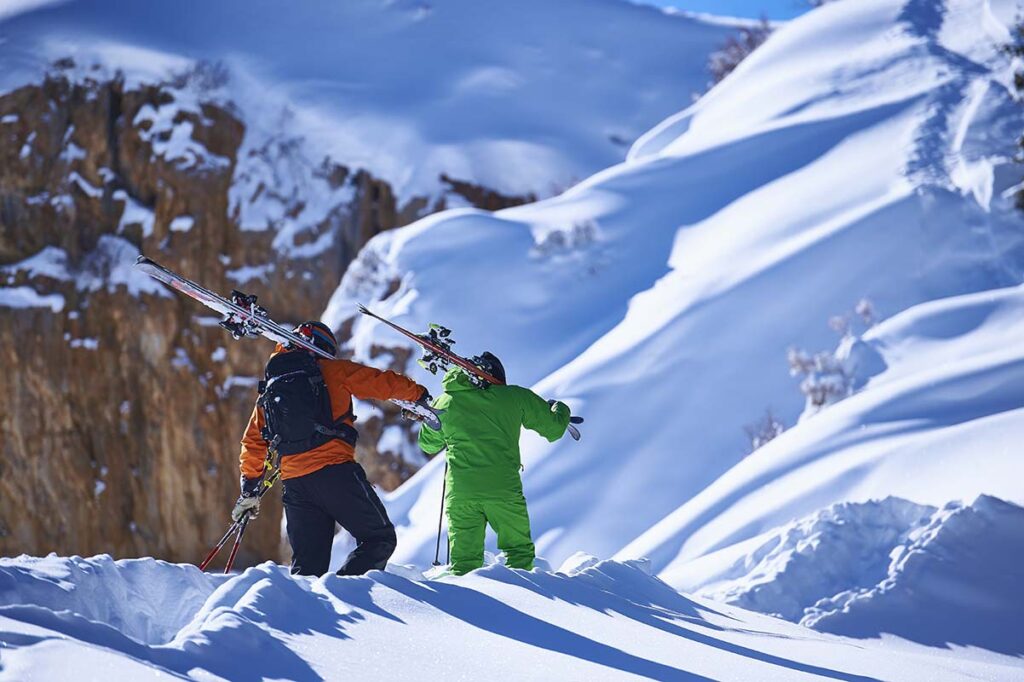 Without a doubt, when it comes to things to do in Aspen, skiing always comes on top of the list. With not one, but four Colorado ski resorts Aspen caters to the needs of every skier out there – the experienced ones and the beginners. Aspen Mountain, widely referred to as Ajax Mountain, is well-known for its black diamond runs.
For beginners, Buttermilk Mountain makes for the perfect choice. A lot of the resorts around turn into great destinations for mountain yoga in the summer, as well as a place to hike and listen to live performances.
Skiing in Snowmass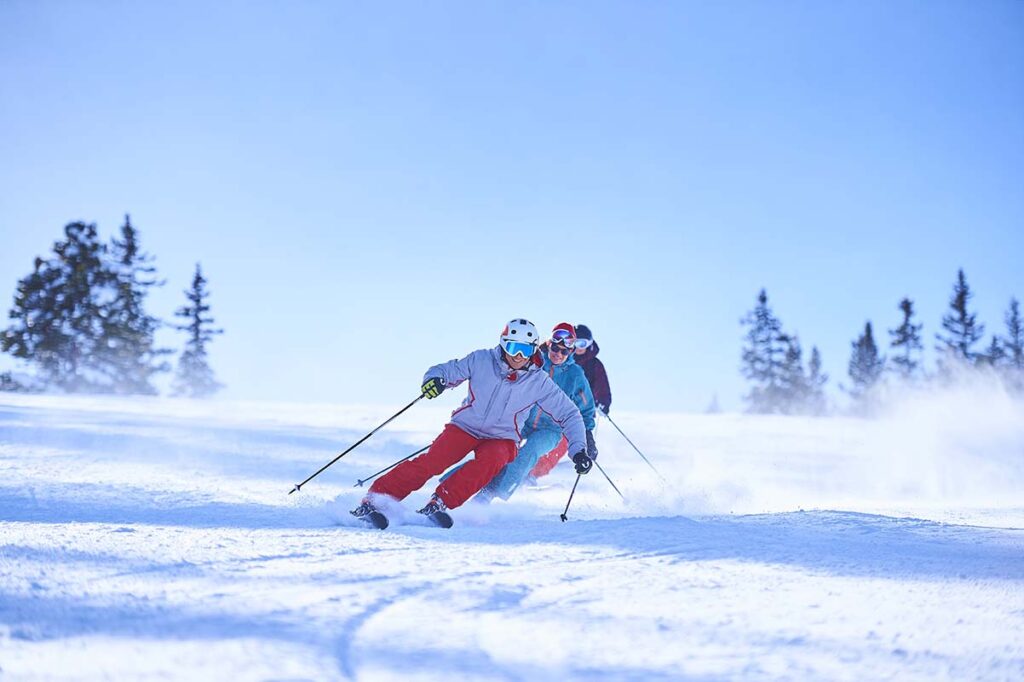 With a whopping 3,362 acres of skiable terrain, it is easy to see why Snowmass is one of the largest and most popular ski areas. The terrains at Burnt Mountain Glades, Hanging Valley and the Cirque. There are ski terrains for experts and more-family friendly difficulty. A great time is guaranteed at Snowmass Park & Superpipe, and your children will love the Treehouse Kids Adventure Center.
Check out Downtown Aspen
Downtown Aspen is a vibrant area, no matter what time of the year you visit it. It is a hot spot for many visitors in the state, who greatly increase the number of the 7,000 residents that normally make this town their home. This is the case during the summer and the winter when tourists flock and fill the streets in search of good food, entertainment and shopping.
Downtown is the heart of Aspen which presents the visitor with a plethora of options. From chic hotels, restaurants and designer-label boutiques, to bakeries, art galleries and smaller shops at the side of the brick sidewalks. That is where you can use the Silver Queen Gondola for a ride all the way to Ajax Peak. If you are hungry, try out the food at the Ajax Tavern, right next to the gondola entrance.
The Aspen Center for Environmental Studies is where you can learn more about the surrounding environment. Visitors can arrange for a custom tour or just drop by at any time to learn important things like how to be more environmentally responsible as travellers.
Browse contemporary art at Aspen Art Museum
Aspen is an art community at its heart. It is the Aspen Art Museum that encapsulates this fact. It is largely focused on contemporary art and changing exhibitions that offer immersive experiences to visitors. The rooftop cafe offers a nice way to enjoy the beauty from the outside.
Hiking the Maroon Bells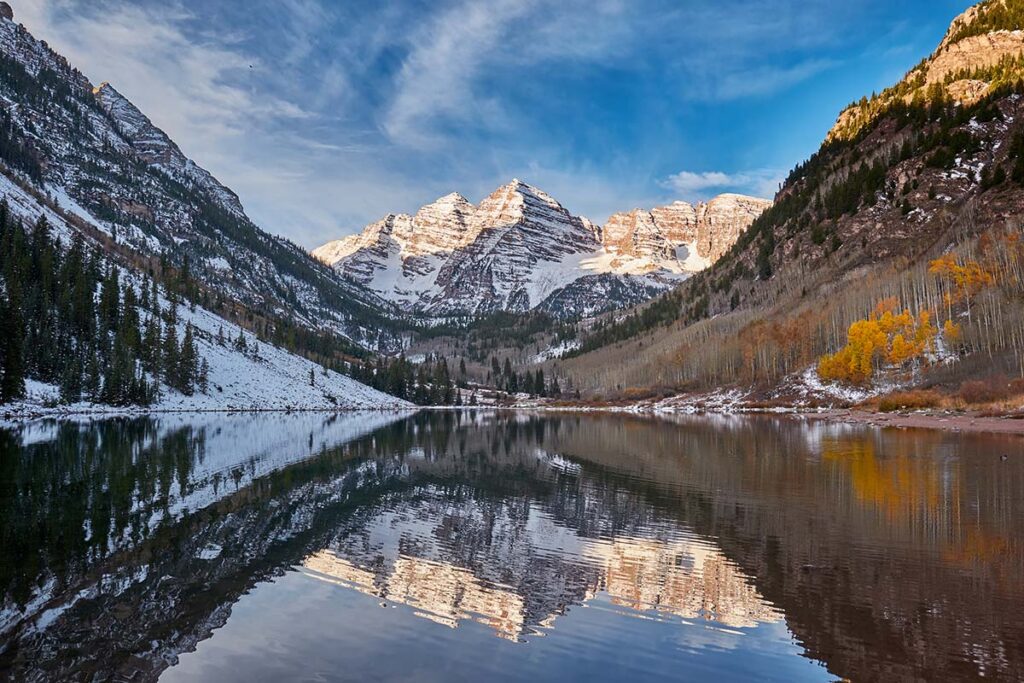 The Maroon Bells are probably responsible for the most iconic image of Aspen. There is no mistaking it – the mirror-like lake reflects the image of two beautiful peaks – Maroon Peak and North Maroon Peak, both part of Elk Mountain. Maroon Bells is one of the landmarks of Colorado, located 10 miles off the ski village up Maroon Creek Road.
Both peaks crest 14,000 feet and are well regarded as two of the most beautiful peaks in the Rocky Mountains. Every avid nature enthusiast or hiker in the White River National Forest should drop by and experience the view and spirit of the place in full.
There are a few hiking options around, based on how much time you are willing to spend here. The easiest hiking trail is the Maroon Lake Scenic Trail, which is only a mile-long loop. The Crater Lake Trail is a longer, 3.6-mile long hike that is well worth the effort with some of the best views of the lake. Camping is very popular around these parts if none of the 5-star resorts at Snowmass or Aspen can tempt you.
Drive through Independence Pass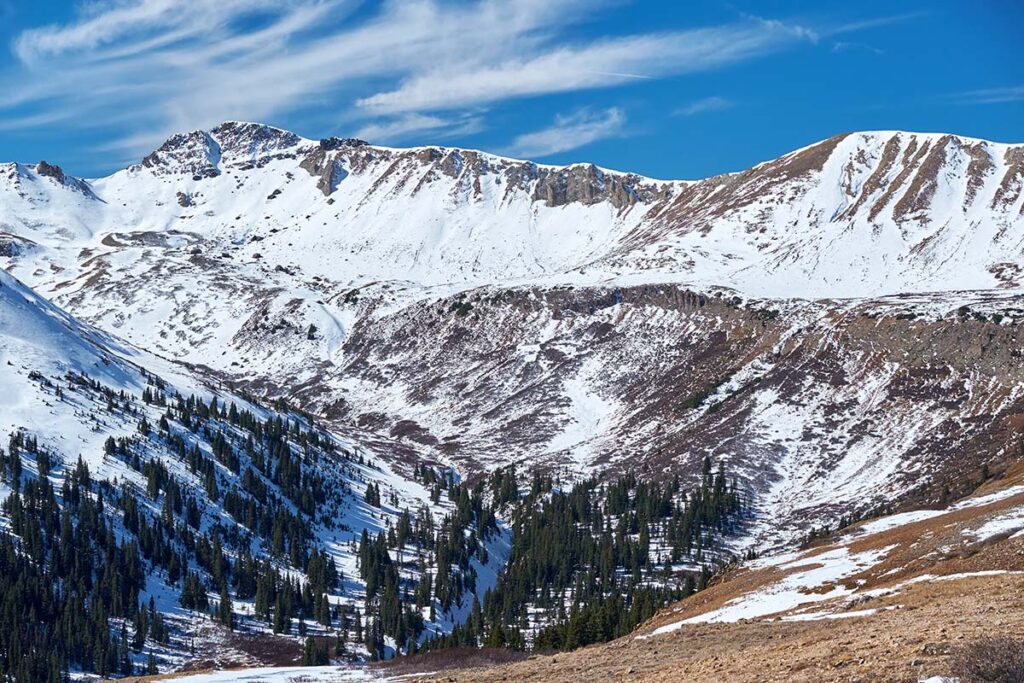 I-70 is Colorado's main artery. This is the road you need to take when you want to visit an area between Leadville and Aspen in the shortest time. However, most visitors prefer the scenic route over Independence Pass. This historic mountain pass will take you straight to Aspen and is well-regarded as one of the best areas to drive in the whole of Colorado. It winds between Continental Divide just over Leadville and goes down into Aspen.
Peaking at over 12,000 feet above sea level with a length of 32 miles, the route swirls around enchanting groves of Aspen trees, serene views over the mountains and then down over the Roaring Fork River. There are many trailheads, ranging from easy to difficult, which visitors can decide to tackle and many picnic spots to take advantage of. Highway 82 is a great place for camping as an alternative to staying in one of the hotels in Aspen.
Ride the Silver Queen Gondola
Getting a great lay of the land, regardless of the season, is possible thanks to the Silver Queen Gondola. It provides spectacular views of the surrounding area, regardless if you are skiing in the winter, hiking in the summer or just enjoying the colours in the fall. It is a 2.5-mile long trip from the base to the top of the mountain. Once there, you can enjoy various entertainment options depending on the season, like hiking trails, outdoor dining and live music. It is also the starting gateway for a number of hiking trails in the area.
Check out Ashcroft Ghost Town
Ashcroft Ghost Town is just a quick trip up Castle Creek Road 10 miles south of Aspen and it is a nice, mysterious place to see. Originally founded as a silver mining town in the 1880s, it was the heart of a thriving mining community, before shutting down and becoming frozen in time. By 1883, it had many facilities and a population of nearly 2000 people, bigger than Aspen.
However, with the depletion of the mines, only 100 summer residents remained by 1885. Modern-day visitors can explore what is left, among which a saloon, post office, the Bird House Hotel and some other notable structures. There are guided tours available with a representative from the Aspen historical society for all those who wish to learn more about the rise and fall of Ashcroft.
Take a dip in Glenwood Springs
While it is true Aspen offers a wide variety of interesting things to do and places to visit, you will truly be remiss if you don't visit Glenwood Springs 40 miles in the northwest direction from Aspen along route 82 in the Roaring Fork Valley. There are many hiking spots from Aspen to Glenwood Springs, as well as whitewater rafting and fishing options. But it is the Hot Springs Pool that brings in the tourists. A single admission fee lets you stay and soak as long as you want.
The legendary pools have been an object of interest for the likes of President Theodore Roosevelt, Al Capone and Molly Brown. The location is particularly great for some relaxation and restoration after a long day of cross-country skiing at Aspen Snowmass or any other area nearby.
Whether you are an avid skier or maybe prefer tourist attractions, you will find plenty of options for you and your family in Aspen. You will be thrilled to come back again!
Fun Activities in Aspen Co
Aspen Brewing Company
Founded in 2008, Aspen Brewing Company has been in the craft beer game ever since. Fans of the drink can enjoy a wide range of options, from blonde and red ales to stouts and seasonal brews. There's indoor seating, as well as an adjacent patio that opens up to some scenic views.
Aspen Golf and Tennis Club
Avid golfers will find the 18-hole award-winning course up the Rocky Mountains just a few minutes away from Aspen. The golf club also offers private instructors for beginner golfers. The club also caters to tennis players with its six clay courts.
Theatre Aspen
By passing the hiking trails, flowerbeds and ponds of Art Park, you can enter the tent of Aspen Theatre. This is the only professional theatre in the area, but also one of the things Aspen in the summer is known for. There are many exciting programs, Broadway talent and great local performers. Theatre Aspen also deals with Aspen Theatre Festival which pays attention to smaller playwrights and groups.
Whitewater Rafting
Mountain regions make a great spot for whitewater rafting and Aspen is no exception. The Aspen Whitewater Rafting Company offers excursion opportunities for people of all skill levels. Whether it is rapids or calm waters on the Roaring Fork River, the staff at the company has the knowledge and top-tier equipment to make for some memorable experiences.
Places to visit in aspen – things to see in aspen
Visitors to Aspen who are not there just for skiing should always consider the Silver Queen Gondola. There are many other Aspen attractions worth a visit, such as Maroon Bells, Independence Pass, T-Lazy-7 Ranch and many more. A number of festivals take place every summer, including the famous Music Festival that goes on for 8 weeks.
What is there to do in aspen colorado in January?
When planning a weekend trip to Aspen in January, you will likely want to keep in mind the best places to see and the most fun activities to do at that time. This is prime ski season time for Aspen in winter. There is no way a visit to Aspen would be complete without taking advantage of the great ski options available here with the many skiing areas catering to adepts and beginners alike.
Things to do in aspen during the summer
Aspen Paragliding
This is an outdoor activity especially made for adrenaline junkies. Aspen paragliders allow pilots and passengers to enjoy the view of up to 18,000 feet above Aspen in summer.
Aspen music festival and school
Aspen has been the venue for the Aspen Music Festival and School during the summer months since 1949. It is one of the events Aspen is known for. More than 70,000 visitors come to enjoy the operas, orchestras, solo performances and chamber music.
Read our post on Aspen's History to learn more – about how this mining town turned into a luxurious resort destination.
FAQs About Aspen
Is Aspen Co Worth visiting?
Aspen Colorado should definitely be on your list of places to visit. In the winter, it is a prime ski resort with runs that accommodate any level from beginner to pro. In the summer, there are many hiking trails and activities to keep you busy for weeks.
Is Aspen worth visiting if you don't ski?
There are many hiking trails in Aspen for people of all skill levels. There are also many entertainment options for individuals who do not ski. The impressively beautiful landscape is a reason alone to visit Aspen any time of the year.
What is Aspen Colorado known for?
The small mountain town of Aspen has worldwide fame for its four prime ski areas – Aspen Highlands, Aspen Mountain, Snowmass and Buttermilk. It caters to skiers of every skill level and there are many other attractions that make a visit even better.