Breckenridge Limo Service and Transportation
Snowflake Limousine provides a professional Breckenridge limo service. We make sure you have enough room for your guests and luggage, no matter if you are going skiing or attending an upcoming event. Let us be your guide through the city. We have luxury limousines and shuttles available for hire.
Our company is at your disposal around the clock, all year round. Go ahead and hire a car, shuttle or limo from Denver to Breckenridge and get the best price.
Place a reservation now! 970.670.6029
We Provide The Best Private Transportation In Breckenridge, Colorado
Why Hire Our Private Luxury Limousine Service?
Trained chauffeurs and unmatchable experience

Luxury transportation service from Denver Airport and other locations

Well-maintained Breckenridge limos and private SUVs

Timely and stress-free arrival to your events

Year-round airport transportation service with your safety in mind

Buses and limo options for weddings, bachelor parties, Breckenridge ski resort, business meetings etc.
If you need Breckenridge airport transportation, a car service to your wedding venue, or maybe a ride to your corporate meeting, put your trust in us. We won't let you down.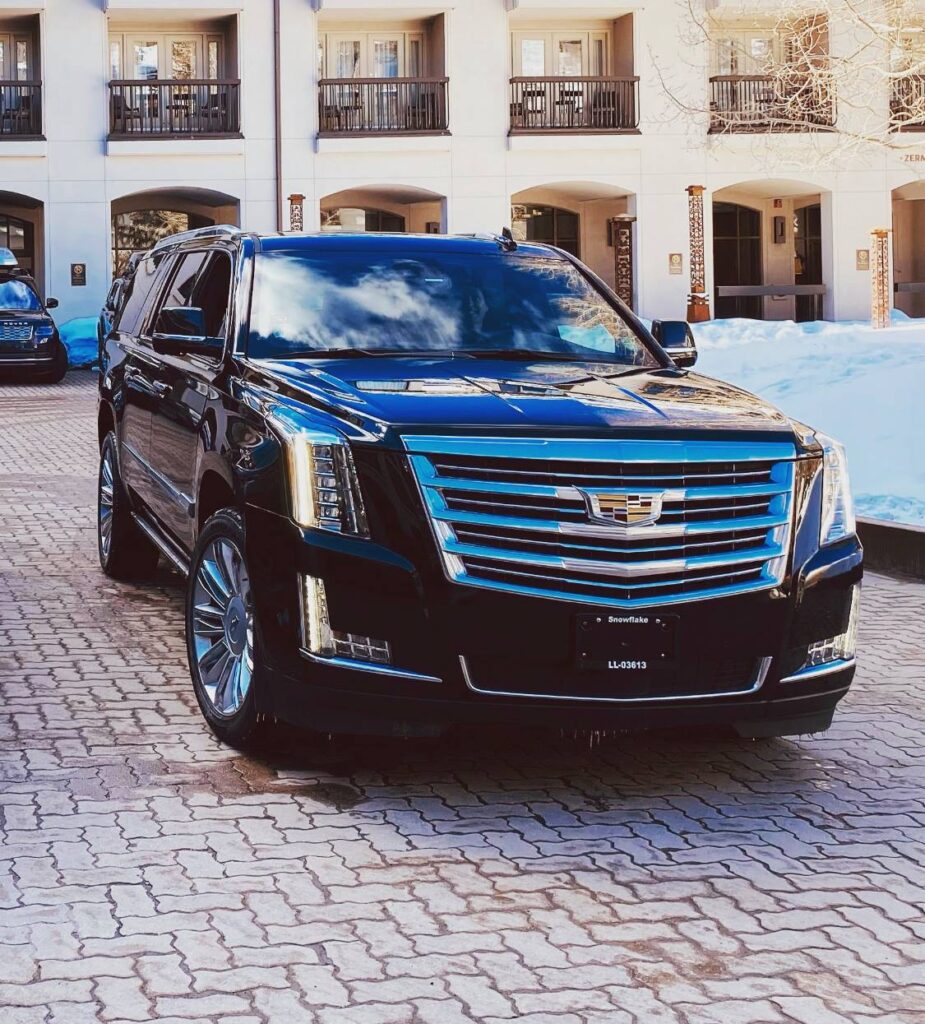 Breckenridge Limo Service That Meets Your Needs
Our limousines will add a touch of luxury and style to your vacation, family gatherings, or business meetings. When you have a special event planned, the last thing you want to think about is driving on congested roads.
If you leave it to our exceptional car service, you and everyone accompanying you can enjoy the beautiful scenery. With so much to see and experience in Colorado, you should not be fixated on the driving part or your safety. We can take care of that for you with our Breckenridge limo and shuttle transportation services.
If the trip is a long one, don't worry. Our Breckenridge limo service allows you to listen to music, watch TV, and surf the Internet in our well-maintained vehicles. This way, you can still have fun with your family and friends or get some work done instead of wasting that time keeping your eyes on the road.
Call or text 970.670.6029 to book our car service
Luxury Transportation Denver Airport to Breckenridge Ski Resorts
Snowflake Limousine is at your service whenever you need airport transportation from the Denver Airport to any Breckenridge ski resort. Our top-quality limos and shuttle vehicles provide you with comfort and convenience at affordable rates. Equipped with everything you could possibly need, they will transform your journey throughout Breckenridge, Colorado.
When on a holiday, it's highly unlikely that you are familiar with the area you are visiting, which means you will struggle with parking. You can save yourself the hassle by taking advantage of our luxurious Breckenridge limo service.
It gives you the privacy to explore the Breckenridge ski resorts and other locations at your own pace. No more wondering where the destination is. With our car service, you can relax and focus on sightseeing and other pleasurable activities.
Then, as the vacation comes to an end, you can once again count on our car service and Breckenridge airport transportation to leave the town and go back home.
Denver to Breckenridge shuttle
Apart from a Breckenridge limo service, we also offer shuttle transportation. A shuttle allows for a large group of people to be picked up from one location and dropped off at the desired destination. It's perfect for when you plan some big events or you just need to drive your staff from one place to another.
Public transportation can be nerve-racking at times, while our car service in Breckenridge, Colorado is pleasant and it saves you more money than you think. No public service can beat the comfort that our company provides with our Breckenridge airport transportation, shuttle management, event transportation, and limo tours.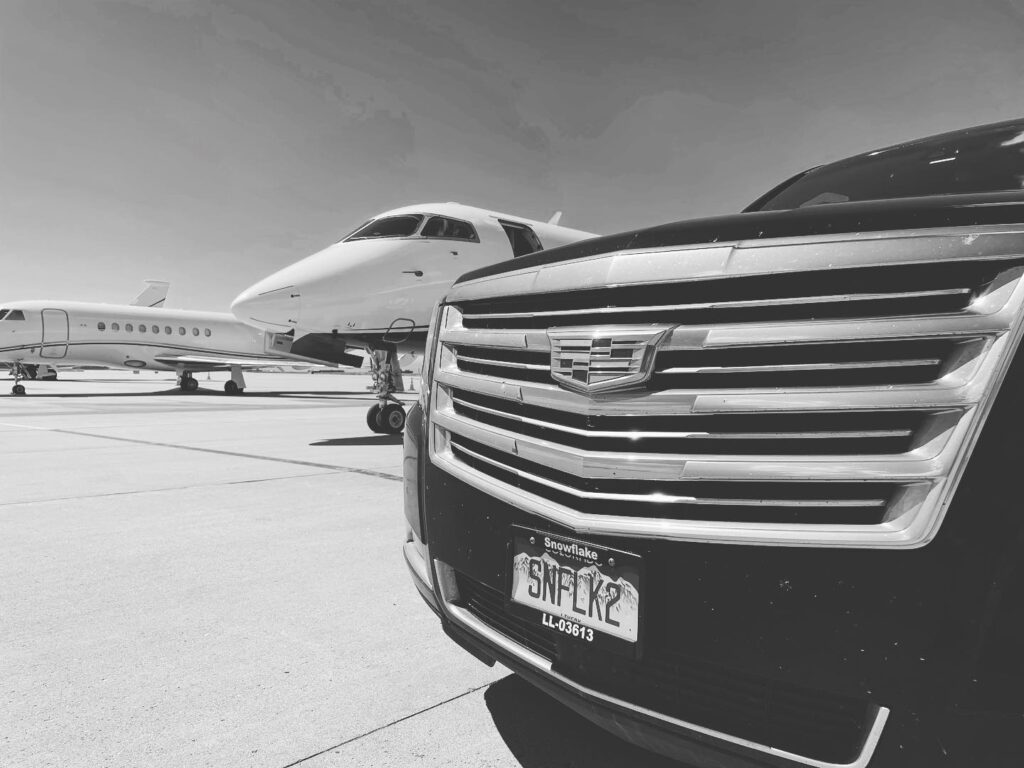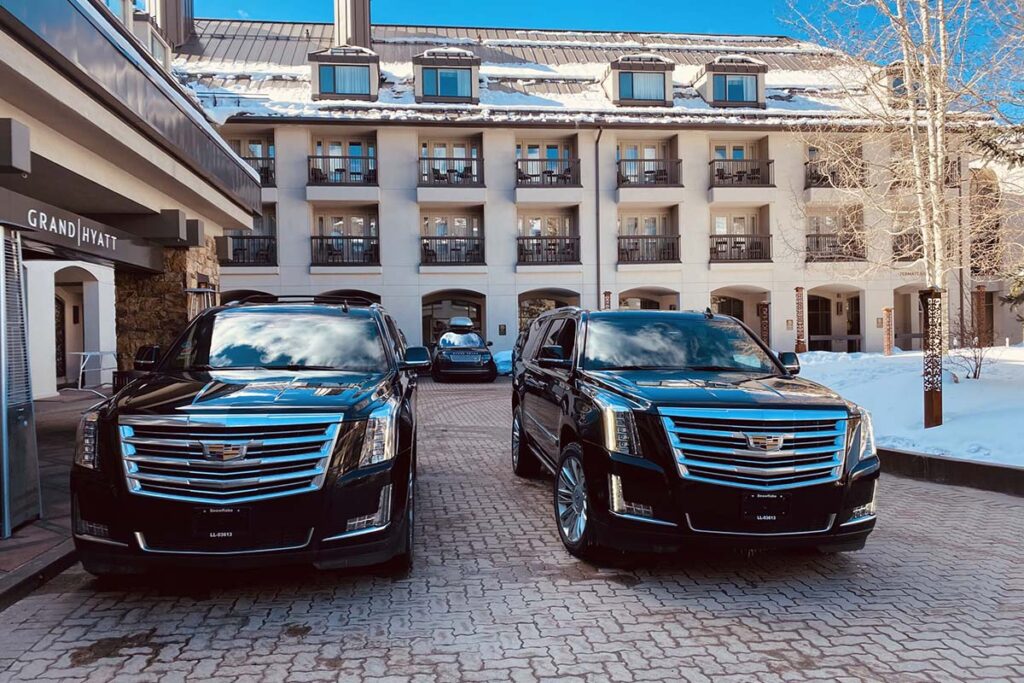 Get to Know Our Fleet Vehicles
Wi-Fi, Bluetooth Stereo, TV for DVD & Media

SiriusXM Satellite Radio

Complimentary granola bars and bottled water

Roof top ski cargo box (per request)

Privacy dividers and child seats (per request)

Forward facing seats

Seating capacity: 2-11 passengers; luggage capacity: 5-15 15 large suitcases

Luxurious stretch limos, shuttles, and party buses transportation
Breckenridge Limo Service for Special Occasions
Special occasions can become ultra-special if you get a Breckenridge limo service. You will shine at your wedding party, prom, bachelor party, business events, or any other event. This is a good way to make your photos in the heart of the Rocky Mountains pop.
Transportation with party buses
No matter if you are planning a prom party or a surprise party, you can do so with a touch of glamor. A party bus lets you play games and have lots of fun while traveling between destinations. You have a designated driver, which means everyone can enjoy themselves and it doesn't matter if you drink or not.
Further to that, during the party you can visit different spots – just hand the driver a list of all the locations you are interested in.
Party buses are great when you need all the guests to arrive at the same time. There is no uncertainty involved with our Breckenridge limo service. Not to mention, the luxurious bus can drop you off anywhere you want, meaning you don't have to worry about parking. Everything will be managed with care as long as you use our car service.
Transportation on your wedding day in Breckenridge
What better way to feel pampered on your special day than arriving at the town venue in style? Hiring a limo or party bus will only make this event more memorable and instagrammable. Not only will it keep the spirit of your wedding party going but it will set a romantic tone for the evening.
Our Breckenridge limo service provides more room overall, enabling you to transport members to the occasion. Plus, it takes the stress away from getting to the ceremony in a timely fashion. Wedding planning is a hassle anyway and you don't need the added stress of getting everyone transported to the different event venues.
Limo tours throughout the city
We are pleased to offer limo tours to our clients as part of our Breckenridge limo service. If you would like to gear up your partners for an upcoming meeting or help them relax at the end of the workday, this is the best way to do it.
With our help, your limo tours will be as smooth as possible. Our professional drivers know the area like the palm of their hands, so you'll never have to worry about directions or traffic jams when you are using our car service. Not to mention, you will get tips and recommendations to make your trip unforgettable.
Breckenridge limos transportation for corporate events
In the corporate world, punctuality and professionalism go hand in hand. The best way to get to your events on time is to get luxury limousine transportation. We can come to Denver International Airport and Eagle Vail Airport (Eagle County Airport) to pick you and your business partners up.
Straight from the airport, we will take you to your hotel and then drive you to any place you have to be. A driver can wait for you in between meetings so they can transport you from one location to the next (if you have several meetings at different town venues throughout the day).
It could also be that you are willing to celebrate with your company staff, regardless of the occasion. In that case, you can make them feel special by giving them the opportunity to travel in style and safety thanks to our Breckenridge limo service.
Private Transportation – Limo from Denver to Breckenridge, Colorado
If you need luxury transportation from Denver to Breckenridge, Colorado, go for our Breckenridge limousine service which is both cutting-edge and cost-effective.
It's common for people to think that luxury limousines are expensive. However, this doesn't mean that they are designed only for the rich. Since limos and shuttles can seat a lot of passengers, they turn out to be more affordable than most people assume. Technically, the cost of a limousine service is split up between the members of your group.
We know the roads in Breckenridge, Colorado well and we use different tools to check out real-time traffic in the area. This helps us to avoid the worst times to leave. Airport transportation can be a pain in the neck for the reasons stated above. But with our car service and shuttle transportation, you will have a positive experience.
Frequently Asked Questions
How do I get from Denver to Breckenridge without a car?
The cheapest option is to stick with public transport such as the RTD rail and bus service. If you are looking for a more memorable experience, you can book a shuttle or Breckenridge limo service.
Can you Uber from Denver to Breckenridge, Colorado?
Yes. Uber services are available in Denver and Breckenridge, Colorado. Just request a ride on the Uber app. There are other taxi programs as well.
Are there shuttles from Denver to Breckenridge, Colorado?
Yes, there are many different shuttle options to avail of, both public and private. If you are looking for a private car service or shuttle transportation services, get in touch with our company to get affordable Breckenridge limo service for your skiing needs, weddings, parties, company trips, etc.
How long is the drive from the Denver International Airport to Breckenridge, Colorado?
Overall, it takes almost 2 hours of driving time to get from the Denver International Airport to Breckenridge. You can book a luxury car service for this such as Breckenridge limo service.
Can I book Breckenridge airport transportation?
As of 2002, the Breckenridge airport is no longer in operation. If you need airport transportation, there are two airports that you can use to access Breckenridge: Eagle Vail Airport and Denver International Airport (DIA). They offer public and private transportation options, including shuttles and Breckenridge limo service.
Can you get shuttles to Breckenridge Ski Resort?
There are public shuttles and buses that can take you to different locations in the town of Breckenridge free of charge, including Breckenridge Ski Resort and Eagle Airport. It's called the Free Ride Transit System. In addition, there is a private car service, Breckenridge limos, buses, and shuttles so that you travel in style.
Is Copper Mountain a town or a ski resort in Colorado?
Copper Mountain is a ski resort and a mountain in Summit County, Colorado. It is a two-hour drive from the Denver Airport (103 miles) and an hour's drive from the Eagle Vail Airport (42 miles).
Is a party bus or limo more expensive?
A party bus is usually more expensive than a limo car service due to the additional space that is being used and the fact that it can accommodate more people. This applies to any area, not just Breckenridge.
Request a limo service Breckenridge, CO
Don't leave anything to chance. Thanks to our private transportation service within Breckenridge, Colorado, you can move between locations in a seamless manner, no stress or headaches involved. We are happy to drive clients to popular ski resorts like Breckenridge ski resort, wedding venues, Denver Airport, and other locations upon demand.
Our customer team is polite and friendly. They are trained to answer your questions and cater to your needs. If you need a luxury ride around town, get in touch with us as soon as possible.