If there is one thing that brings people to Vail, Co from all over the world it is the snowboard and ski area paradise. Every skier and snowboarding fan out there appreciates the slopes around the Vail resorts, the lodging options, and having all of their winter vacation needs in one place. The best time to ski Vail is most likely around mid-February when most people visit Vail for a great winter escape. Skiing in Colorado presents something for everyone – beginner terrain, legendary back bowls, and acres of skiable terrain for every level of skier.
One of the things that we at Snowflake Limousine believe about a great ski vacation with ample snowfall and plenty of acres of terrain for ski and snowboard is that it should be fun. You need to be able to make the most of it, by getting to your lodging and rentals with ease, travelling between the chairlifts and ski slopes, or just pampering yourself in a spa with a great reputation within the area. That is what our Vail limo service provides to visitors in one of Vail's Colorado mountain towns. Our company is focused on supplying visitors and tourists with luxury transportation to and from Vail resort directly from the airport. We have a fleet of luxury vehicles ready to pick you up and drop you off wherever you want to go in any of the Colorado ski resorts. 
The benefits of our limo service 
There are many reasons why booking our transport service in Vail Village or another resort in the area, all of which you gain instant access to:
Reliable means of luxury transport – our company has been in this business for quite some time and we know just how important it is for clients to have reliable limo services. That is why every aspect of our service caters to the needs and requirements of the client, making us a sure pick for any transport needs in Vail. 
Comfort and style – if you are all about riding in class and comfort, then our limo service is the best pick for you. We have a fleet of luxury vehicles that can transport you in full comfort and style. When you are in one of the largest ski resorts in the area, it is best to make every moment worth it, even travelling around. 
Easy booking process – we know that time on vacation flies fast. That is why we don't want to waste any of your time with needless procedures for booking a limo. Just contact us, share the details of where you'd like us to pick you up from, and leave the rest to us. 
Don't stress about a thing – one of the major benefits of working with our private limo service lies in the no-stress approach to transportation we bring. We know that it is best to know you have that aspect of your vacation taken care of. And that is exactly what we cater our service around. 
What are the best Vail Ski resorts for a winter escape?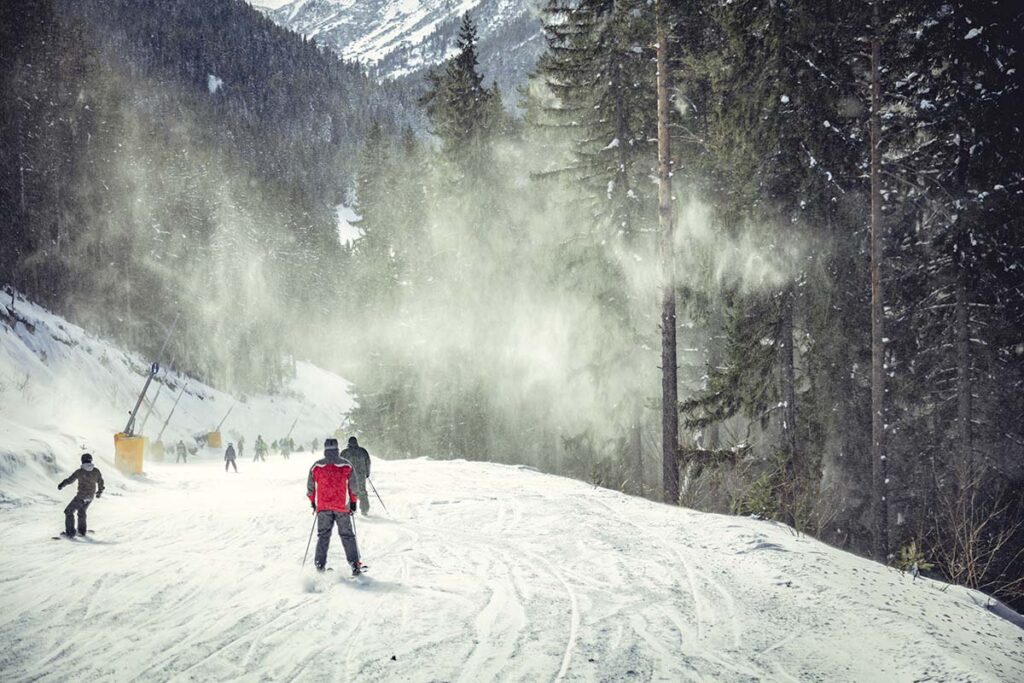 The town of Vail, Co is home to several resorts, including the biggest one in the country. The quaint village of Vail is one of the most popular ski destinations in the world. But that is not all – the neighboring areas are home to some of the most popular resorts in the United States. Vail Resorts operates many of the following resorts, offering season passes under the Epic Pass. Pass holders take advantage of many on-mountain benefits.
Let's explore the best resorts in greater detail.
Vail Ski Resort
When you think about doing ski runs in Colorado, the first resort that comes to mind is most probably Vail. A true world-class area for skiers and snowboarders alike, Vail Ski Resort is one of the premier locations to choose from. It is made up of over 5,000 acres of skiable terrain, making it the largest resort not just in the US, but also in the world. Vail has everything – from beginner ski schools and terrain to support new skiers, to well-groomed base areas and back bowls. There are great snowboard and ski lessons available at the school in Golden Peak.
That is where the terrain park and race course are located as well. Vail provides not one but six different bowl areas for those that don't like crowds and are looking for a challenge. China Bowl and Game Creek Bowl are groomed runs ideal for an introduction to bowl skiing. The Sun Up & Sun Down bowl, as well as the Siberia & Mongolia Bowls, are great for more skilled audiences. And for families who opt for other activities, Adventure Ridge presents many great options, among which are ski biking and snow tubing. The area also has many snowshoe trails with impressive views atop Vail Pass.
The Vail Nordic Center east of Vail Village provides access to Vail Pass Recreation Area and its many snowshoeing trails. Visitors and tourists can plan ahead with special apps that are new this season. They are developed to provide weather reports, snow totals, terrain alerts, and personal stats. They even allow users to book lodging and check out the grooming status of interactive trail maps or anything they may need assistance with. 
The town of Vail has some distinct destinations, the most popular of which are Lionshead, Vail Village, Cascade Village, East Vail, and West Vail. Each of them presents a unique mix of restaurants, lodging, and shops that complete the Vail experience. The resort features over 30 chair lifts and over 195 trails, of which only half are made up of expert terrain. The annual average snowfall is great and makes for a perfect winter vacation to explore Vail Resort.
Beaver Creek Resort
This resort offers a luxurious experience like nothing on Earth. Home to some of the most stunning mountain scenery, and world-class skiing areas for all levels across more than 2,00 acres of terrain, Beaver Creek Resort is divided into three main areas:
The Haymeadow Express gondola is access to Haymeadow Park plus Red Buffalo Park for beginners.
Intermediate skiers can enjoy a run at C Prime in the Rose Bowl, Gunder's in Bachelor Gulch, and Larkspur Bowl.
Experts are welcome to take the challenge at the World Cup Birds of Prey course. 14 runs comprise over 26,000 feet of expert-level terrain, which can earn anyone a spot in Talon's Hall of Fame.
The area comes truly alive at Beaver Creek Village with its vast range of shops, luxury lodging, and restaurants. There are often outdoor installations that make a great backdrop for any photo. Of course, we also provide luxury limo service transportation to Beaver Creek and nearby resorts.
Ski Cooper
This resort is located 10 miles from Leadville and provides a more relaxed atmosphere away from the crowds. It is well-regarded for its affordable prices, soft snow, and unique grooming techniques. With all of this combined, visitors here can enjoy an authentic skiing experience with less hustle and bustle. There are challenging runs here as well, such as the Tennessee Creek Basin run and the skiing tours on Chicago Ridge.
Copper Mountain
Copper Mountain has the benefit of being close to Denver and less than 30 miles away from Vail. The terrain is naturally divided and there are plenty of challenging bowls along with beginner-friendly terrain. Apart from the skiable terrain, there is also the Rocky Mountain Coaster and Tubing Hill cross-country skiing trails, as well as a huge indoor-training facility at Woodward Copper Barn. East, West, and Center Village all offer pedestrian-only access and each of the areas comes with a unique mix of lodging, restaurants, and shops.
In 45-60 minutes from Vail, visitors can access a number of popular resorts in Summit County, among which Keystone, Arapahoe Basin, and Breckenridge Ski resorts. Lift tickets for children to some of these are free. They are all about 30 minutes from Copper Mountain.
Enhance your Vail ski trip with a private limo service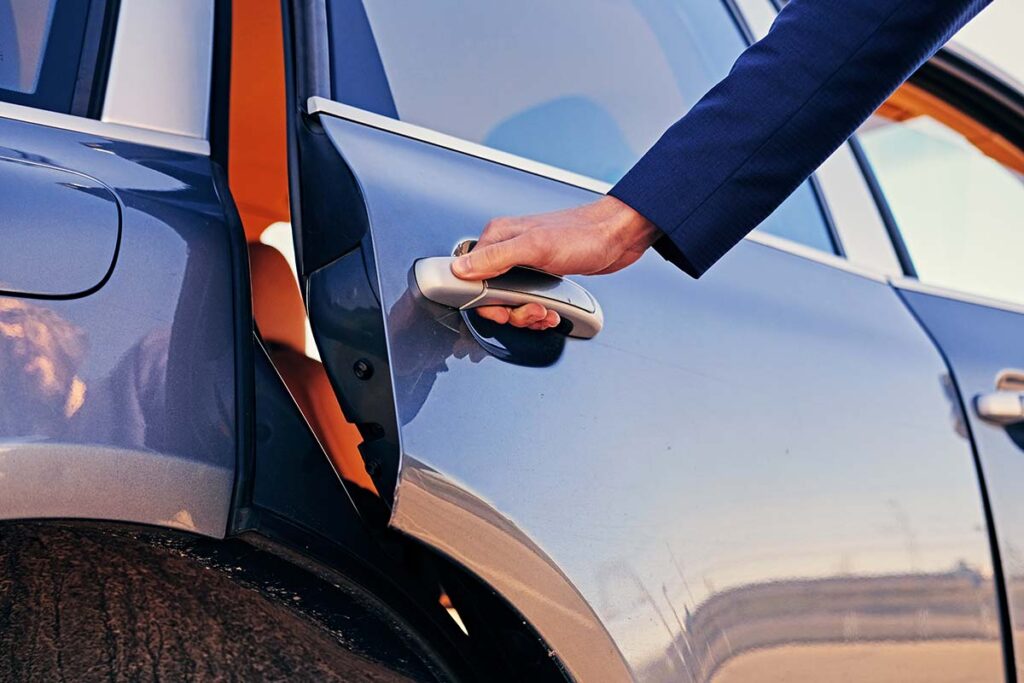 Regardless of which resort you are staying at and where you want to travel, having our private limo service at your disposal can be a game-changer. It is very convenient when you land at an airport and require travel arrangements to one of the resorts. We can be there to provide the right vehicle for the job, for you, and for all of your luggage. Then there is also the convenience of having on-demand transportation between restaurants, shops, and various different areas of the ski resorts around.
All of our vehicles are well-equipped with amenities to make the journey as pleasant as possible. You can come to experience the mountain resorts with us taking care of transportation. Our drivers are trained professionals that guarantee a safe and pleasant drive. Our company offers a flexible service in that we can accommodate families and large groups of people with ease. We can customize a transport schedule in a way to help you make the most of your sense of adventure.
The ultimate ski experience, whether it is in a small group setting or coming to Vail with your family is always guaranteed with the right luxury transport service by your side. Snowflake Limousine offers private limo service to visitors and tourists around the Eagle County area and many of the wonderful resorts. You can now lock in great rates with the service by contacting us or sending us a message to secure the best travel with our luxury transport options.
Do you need assistance with on-mountain transportation for upcoming events?
Snowflake Limousine is ready to serve your transport needs in no time. Come experience the style and comfort of our luxury limousines and enhance your winter vacation in the best way possible. Contact us or send us a text message to discover how easy and quick it is to book our limo service.
Book our service today and plan for the upcoming events and all of the wonderful amenities skiers can access in Vail. The mountain is waiting!